Two-way High Pressure Ball Valve KHB/KHM Series

KHB/KHM Series Two-Way Ball Valves are used to either shut-off or open of flow passage and their easy operation provides unrestricted flow. Due to their volumetric structure they work rapidly and efficiently, and prevent cavitation.
KHB-Valve block Ball-Shaped DN04-25/40

KHB-Sleeves Ball-Shaped DN32/50
Two-way Ball Valves

The 2-way ball valve is one of the most common valves on the market. It has 2 ports, an inlet and an outlet, and a ball with a bore in it. They are operated by a manual hand lever to turn the ball 90 degrees, which is why they are often called quarter turn ball valves or shut off valves. They are one of the most common valves due to their simple operation, reliability, long service life, and wide range of application uses. Various connection styles are available (threaded, flanged, etc.) for easy application installation. A threaded ball valve is the most common, as they are simply threaded into an existing assembly.
A 2-way ball valve making it a straight ball valve. Therefore, media will only flow in one direction and they are considered inline ball valves with the rest of the assembly. If the valve is open (handle parallel to the pipe or hose), then the media will flow from the inlet, through the ball's bore, and out the outlet. If the valve is closed (handle perpendicular to the pipe or hose), then the media flow is shut off. Thanks to the quarter turn ball valve operation, they are easy to use and you can visually see if the valve is open or closed.

KHB/KHM High Pressure Ball Valves Dimensions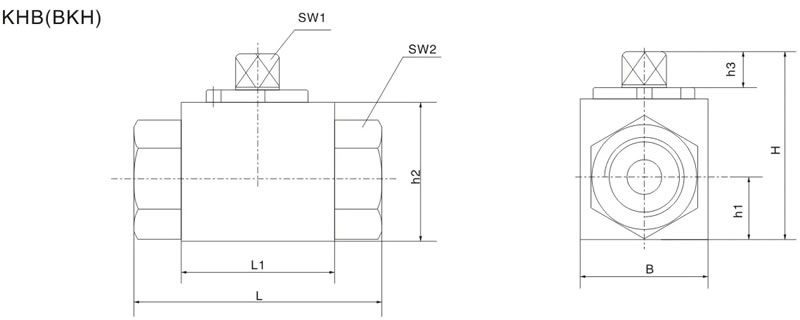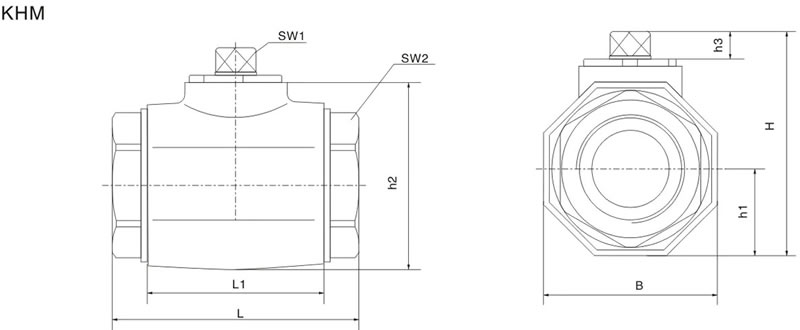 JB987-77 External Thread Seal Ball Valves
| | | | | | | | | | | | | | | | |
| --- | --- | --- | --- | --- | --- | --- | --- | --- | --- | --- | --- | --- | --- | --- | --- |
| Model | DN | PN | LW | RA | d1 | i | L | L1 | B | H | h1 | h2 | h3 | SW1 | SW2 |
| KHB-M12x1.25 | 4 | 500 | 4 | 8 | M12x1.25 | 9 | 61 | 37 | 28 | 44.5 | 13 | 34 | 8 | 9 | 24 |
| KHB-M16x1.5 | 6 | 500 | 6 | 11 | M16x1.5 | 11 | 69 | 37 | 28 | 44.5 | 13 | 34 | 8 | 9 | 24 |
| KHB-M22x1.5 | 8 | 500 | 8 | 16 | M22x1.5 | 12 | 76 | 42 | 32 | 52.5 | 17 | 40 | 8 | 9 | 27 |
| KHB-M27x1.5 | 10 | 500 | 10 | 20 | M27x1.5 | 12 | 76 | 42 | 32 | 52.5 | 17 | 40 | 8 | 9 | 32 |
| KHB-M30x1.5 | 16 | 400 | 15 | 24 | M30x1.5 | 13 | 84 | 47 | 38 | 63.5 | 19 | 46 | 11 | 9 | 32 |
| KHB-M36x2 | 20 | 315 | 20 | 30 | M36x2 | 15 | 103 | 60 | 48 | 75 | 24 | 57 | 12 | 12 | 41 |
| KHB-M42x2 | 25 | 315 | 25 | 35 | M42x2 | 18 | 116 | 65 | 57 | 82 | 28.5 | 64 | 12 | 12 | 46 |
| KHM-M52x2 | 32 | 315 | 30 | 40 | M52x2 | 20 | 149 | 84 | 82 | 108 | 41 | 87.5 | 14 | 14 | 55 |
| KHM-M60x2 | 40 | 315 | 38 | 50 | M60x2 | 22 | 174 | 91 | 93 | 119.5 | 46.5 | 99 | 14 | 17 | 70 |
| KHM-M72x2 | 50 | 315 | 48 | 60 | M72x2 | 24 | 178 | 100 | 110 | 135.5 | 55 | 115 | 14 | 17 | 80 |
ISO 228 Internal Thread Ball Valves
| | | | | | | | | | | | | | | |
| --- | --- | --- | --- | --- | --- | --- | --- | --- | --- | --- | --- | --- | --- | --- |
| Model | DN | PN | LW | d1 | i | L | L1 | B | H | h1 | h2 | h3 | SW1 | SW2 |
| KHB-G1/8 | 4 | 500 | 6 | G1/8 | 10 | 69 | 37 | 28 | 44.5 | 13 | 32 | 8 | 9 | 24 |
| KHB-G1/4 | 6 | 500 | 6 | G1/4 | 14 | 69 | 37 | 28 | 44.5 | 13 | 32 | 8 | 9 | 24 |
| KHB-G3/8 | 10 | 500 | 10 | G3/8 | 14 | 72 | 42 | 32 | 52.5 | 17 | 40 | 8 | 9 | 27 |
| KHB-G1/2 | 13 | 500 | 13 | G1/2 | 16 | 83 | 48 | 35 | 52.5 | 17 | 40 | 8 | 9 | 32 |
| KHB-G1/2 | 16 | 400 | 15 | G1/2 | 16 | 83 | 47 | 38 | 63.5 | 19 | 46 | 11 | 12 | 32 |
| KHB-G3/4 | 20 | 315 | 20 | G3/4 | 18 | 95 | 60 | 48 | 75 | 24 | 57 | 12 | 12 | 41 |
| KHB-G1 | 25 | 315 | 25 | G1 | 20.5 | 113 | 65 | 57 | 82 | 28.5 | 64 | 12 | 12 | 46 |
| KHB-G11/4 | 25/32 | 315 | 25 | G174 | 22 | 120 | 65 | 60 | 82 | 28.5 | 64 | 12 | 14 | 55 |
| KHB-G11/2 | 25/40 | 315 | 25 | G1'/2 | 24 | 130 | 65 | 60 | 82 | 28.5 | 64 | 12 | 14 | 55 |
| KHM-G11/4 | 32 | 315 | 30 | G174 | 22 | 110 | 84 | 82 | 108 | 41 | 87.5 | 14 | 17 | 60 |
| KHM-G11/2 | 40 | 315 | 38 | G172 | 24 | 130 | 91 | 93 | 119.5 | 46.5 | 99 | 14 | 17 | 70 |
| KHM-G2 | 50 | 315 | 48 | G2 | 26 | 140 | 100 | 110 | 135.5 | 55 | 115 | 14 | 17 | 80 |
ANSI B1 .20.1 NPT Female Ball Valves
| | | | | | | | | | | | | | | |
| --- | --- | --- | --- | --- | --- | --- | --- | --- | --- | --- | --- | --- | --- | --- |
| Model | DN | PN | LW | d1 | i | L | L1 | B | H | h1 | h2 | h3 | SW1 | SW2 |
| KHB-1/8NPT | 4 | 500 | 6 | 1/8NPT | 10.5 | 69 | 37 | 28 | 44.5 | 13 | 32 | 8 | 9 | 24 |
| KHB-1/4NPT | 6 | 500 | 6 | 1/4NPT | 14 | 69 | 37 | 28 | 44.5 | 13 | 32 | 8 | 9 | 24 |
| KHB-3/8NPT | 10 | 500 | 10 | 3/8NPT | 14 | 72 | 42 | 32 | 52.5 | 17 | 40 | 8 | 9 | 27 |
| KHB-1/2NPT | 13 | 500 | 13 | 1/2NPT | 17 | 83 | 48 | 35 | 52.5 | 17 | 40 | 8 | 9 | 32 |
| KHB-3/4NPT | 20 | 315 | 20 | 3/4 NPT | 19 | 95 | 60 | 48 | 75 | 24 | 57 | 12 | 12 | 41 |
| KHB-1NPT | 25 | 315 | 25 | 1NPT | 22.5 | 113 | 65 | 57 | 82 | 28.5 | 64 | 12 | 12 | 50 |
| KHB-11/4NPT | 25/32 | 315 | 25 | 174NPT | 22.5 | 120 | 65 | 60 | 82 | 28.5 | 64 | 12 | 14 | 55 |
| KHB-11/2NPT | 25/40 | 315 | 25 | 172NPT | 25 | 130 | 65 | 60 | 82 | 28.5 | 64 | 12 | 14 | 55 |
| KHM-11/4NPT | 32 | 315 | 30 | 174NPT | 25 | 120 | 84 | 82 | 108 | 41 | 87.5 | 14 | 14 | 55 |
| KHM-11/2NPT | 40 | 315 | 38 | 172 NPT | 25 | 130 | 91 | 93 | 119.5 | 46.5 | 99 | 14 | 17 | 70 |
| KHM-2NPT | 50 | 315 | 48 | 2NPT | 30 | 140 | 100 | 110 | 135.5 | 55 | 115 | 14 | 17 | 80 |

SAE J 514 UN/UNF Internal Thread Ball Valves
| | | | | | | | | | | | | | | |
| --- | --- | --- | --- | --- | --- | --- | --- | --- | --- | --- | --- | --- | --- | --- |
| Model | DN | PN | LW | d1 | i | L | L1 | B | H | h1 | h2 | h3 | SW1 | SW2 |
| KHB-SAE4 | 6 | 500 | 6 | SAE4 | 12 | 69 | 37 | 28 | 44.5 | 13 | 32 | 8 | 9 | 24 |
| KHB-SAE6 | 10 | 500 | 10 | SAE6 | 13 | 72 | 42 | 32 | 52.5 | 17 | 40 | 8 | 9 | 27 |
| KHB-SAE8 | 13 | 500 | 13 | SAE8 | 15 | 83 | 48 | 35 | 52.5 | 17 | 40 | 8 | 9 | 32 |
| KHB-SAE12 | 20 | 315 | 20 | SAE12 | 20 | 95 | 60 | 48 | 75 | 24 | 57 | 12 | 12 | 41 |
| KHB-SAE16 | 25 | 315 | 25 | SAE16 | 20 | 113 | 65 | 57 | 82 | 28.5 | 64 | 12 | 12 | 46 |
| KHB-SAE20 | 25/32 | 315 | 25 | SAE20 | 20 | 120 | 65 | 60 | 82 | 28.5 | 64 | 12 | 12 | 55 |
| KHB-SAE24 | 25/40 | 315 | 25 | SAE24 | 20 | 130 | 65 | 60 | 82 | 28.5 | 64 | 12 | 12 | 55 |
| KHM-SAE20 | 32 | 315 | 30 | SAE20 | 20 | 120 | 84 | 82 | 108 | 41 | 87.5 | 14 | 14 | 55 |
| KHM-SAE24 | 40 | 315 | 38 | SAE24 | 20 | 130 | 91 | 93 | 119.5 | 46.5 | 99 | 14 | 17 | 70 |
| KHM-SAE32 | 50 | 315 | 40 | SAE32 | 20 | 140 | 100 | 110 | 135.5 | 55 | 115 | 14 | 17 | 80 |
DIN 2353 Light series Ball Valves
| | | | | | | | | | | | | | | | |
| --- | --- | --- | --- | --- | --- | --- | --- | --- | --- | --- | --- | --- | --- | --- | --- |
| Model | DN | PN | LW | RA | d1 | i | L | L1 | B | H | h1 | h2 | h3 | SW1 | SW2 |
| KHB-06LR | 4 | 500 | 4 | 6 | M12x1.25 | 10 | 67 | 37 | 28 | 44.5 | 13 | 32 | 8 | 9 | 24 |
| KHB-08LR | 6 | 500 | 6 | 8 | M14x1.5 | 10 | 67 | 37 | 28 | 44.5 | 13 | 32 | 8 | 9 | 24 |
| KHB-10LR | 8 | 500 | 8 | 10 | M16x1.5 | 11 | 74 | 42 | 32 | 52.5 | 17 | 40 | 8 | 9 | 27 |
| KHB-12LR | 10 | 500 | 10 | 12 | M18x1.5 | 11 | 74 | 42 | 32 | 52.5 | 17 | 40 | 8 | 9 | 27 |
| KHB-15LR | 13 | 500 | 13 | 15 | M22x1.5 | 12 | 82 | 48 | 35 | 52.5 | 17 | 40 | 8 | 9 | 32 |
| KHB-15LR | 16 | 400 | 13 | 15 | M22x1.5 | 12 | 82 | 47 | 38 | 63.5 | 19 | 46 | 11 | 9 | 32 |
| KHB-18LR | 13 | 500 | 13 | 18 | M26x1.5 | 12 | 82 | 48 | 35 | 52.5 | 17 | 40 | 8 | 9 | 32 |
| KHB-18LR | 16 | 400 | 15 | 18 | M26x1.5 | 12 | 82 | 47 | 38 | 63.5 | 19 | 46 | 11 | 12 | 32 |
| KHB-22LR | 20 | 315 | 19 | 22 | M30x2 | 14 | 101 | 60 | 48 | 75 | 24 | 57 | 12 | 12 | 41 |
| KHB-28LR | 25 | 315 | 25 | 28 | M36x2 | 14 | 108 | 65 | 57 | 82 | 28.5 | 64 | 12 | 12 | 46 |
| KHB-35LR | 25/32 | 315 | 25 | 35 | M45x2 | 16 | 112 | 65 | 60 | 82 | 28.5 | 64 | 12 | 14 | 46 |
| KHM-35LR | 32 | 315 | 30 | 35 | M45x2 | 16 | 141 | 84 | 82 | 108 | 41 | 87.5 | 14 | 14 | 60 |
| KHM-42LR | 40 | 315 | 38 | 42 | M52x2 | 16 | 162 | 91 | 93 | 119.5 | 46.5 | 99 | 14 | 17 | 70 |
DIN 2353 Heavy series Ball Valves
| | | | | | | | | | | | | | | | |
| --- | --- | --- | --- | --- | --- | --- | --- | --- | --- | --- | --- | --- | --- | --- | --- |
| Model | DN | PN | LW | RA | d1 | i | L | L1 | B | H | h1 | h2 | h3 | SW1 | SW2 |
| KHB-08SR | 4 | 500 | 5 | 8 | M16x1.5 | 12 | 73 | 37 | 28 | 44.5 | 13 | 32 | 8 | 9 | 24 |
| KHB-10SR | 6 | 500 | 6 | 10 | M18x1.5 | 12 | 73 | 37 | 28 | 44.5 | 13 | 32 | 8 | 9 | 24 |
| KHB-12SR | 8 | 500 | 8 | 12 | M20x1.5 | 12 | 76 | 42 | 32 | 52.5 | 17 | 40 | 8 | 9 | 27 |
| KHB-14SR | 10 | 500 | 10 | 14 | M22x1.5 | 14 | 80 | 42 | 32 | 52.5 | 17 | 40 | 8 | 9 | 27 |
| KHB-16SR | 13 | 500 | 13 | 16 | M24x1.5 | 14 | 86 | 48 | 35 | 52.5 | 17 | 40 | 8 | 9 | 32 |
| KHB-20SR | 13 | 500 | 13 | 20 | M30x2 | 16 | 90 | 48 | 35 | 52.5 | 17 | 40 | 8 | 9 | 32 |
| KHB-20SR | 16 | 400 | 15 | 22 | M30x2 | 16 | 90 | 47 | 38 | 63.5 | 19 | 46 | 11 | 9 | 32 |
| KHB-25SR | 20 | 315 | 19 | 25 | M36x2 | 18 | 109 | 60 | 48 | 75 | 24 | 57 | 12 | 12 | 41 |
| KHB-30SR | 25 | 315 | 25 | 30 | M42x2 | 20 | 120 | 65 | 57 | 82 | 28.5 | 64 | 12 | 12 | 46 |
| KHB-38SR | 25/32 | 315 | 25 | 38 | M52x2 | 22 | 124 | 65 | 60 | 82 | 28.5 | 64 | 12 | 14 | 55 |
| KHM-38SR | 32 | 315 | 30 | 38 | M52x2 | 22 | 153 | 84 | 82 | 108 | 41 | 87.5 | 14 | 14 | 60 |

(1) Product code:
    KHB-Valve block Ball-shaped DN04-25/40
   KHM-Sleeves Ball-shaped DN32-50
(2) Thread size or the pipe diameter and connection type
(3) Valve and joints material:
   1-Carbon steel, 4- Stainless Steel
(4) Ball and spindle material control:
   1- Carbon steel, 4- Stainless Steel
(5) The seal material:
   1 一POM, 4-Polytetrafluoroethylene
   5-PEEK
(6) Joint seal and Control spindle seal:
   2- NBR, 4-FPM, 6-EPDM
(7) Handle Type:
   01-Aluminum alloy crank
   02-Aluminum alloy straight handle
   03-Zinc alloy crank
   04-Zinc alloy straight shank
   05-Steel crank
   06-Steel straight handle
(8) Surface treatment:
   Default plating blue with zinc
   Please specify other requirements
| | |
| --- | --- |
| Product name | Stainless Steel Ball Valve 2-Way Block Body Hydraulic High Pressure Ball Valve |
| Part Nunber | Custom Label Acceptable |
| Body & Port Material | 1-carbon steel,4-stainless steel |
| Stem Seal Material | 2-NBR, 4-FPM, 6-EPDM |
| Ball Seal Material | 1-POM, 4-PTFE, 5-PEEK |
| Surface Treatment | Zinc plating, Customization |
| Interchangeability | CIOCCA-CRH12, GEMELS-GE2, MHA-BKH, HOLMBURY-HCV HYDAC-KHB |
| Port Option | Thread or Flange; Optional Standards: SAE, ISO, ANSI, DIN |
| Media | Water / Oil / Gas Industrial |
| Certificate | ISO9001 |
| Keyword | Two-Way Ball Valves, hydraulic ball valve, High Pressure Ball Valve |
Ball Valve Types