A Quick couplings are also known as quick connect couplers. These are general purpose couplings that can connect at either end of the connection.
Quick couplings can be connected and disconnected easily as they are compact but very robust and sturdy in their application. They are highly reliable as they provide unswerving service for the transfer of fluid for pneumatic, hydraulic and vacuum systems.
Quick couplings are also known as quick connect couplers. These are general purpose couplings that can connect at either end of the connection.
They are generally designed according to the maximum working pressure and could be made of steel, brass or stainless steel depending upon the application and the type of fluid.
Their design is simple: a male end—or plug—is inserted into a female end—or socket—to make a secure, leak-tight seal. They are sometimes called push-to-connect because connecting them requires only a quick push.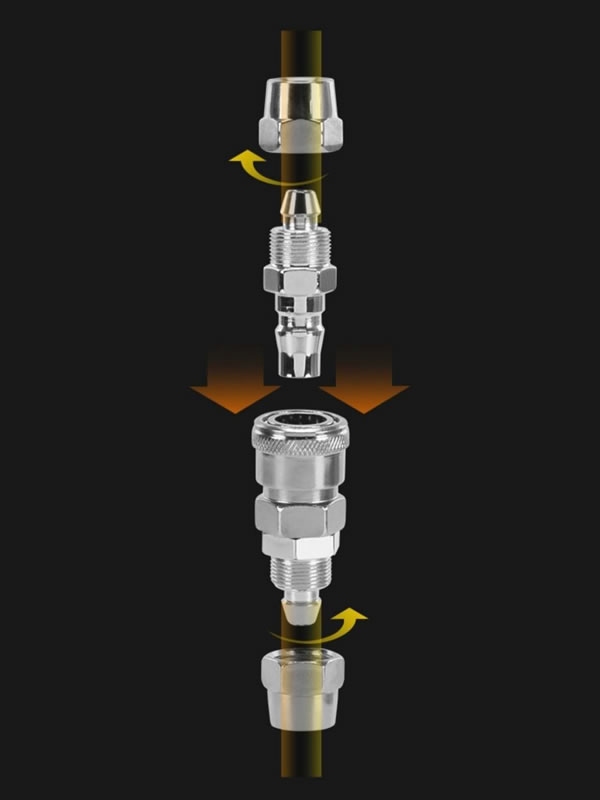 What we offer
THE QUICK RELEASE COUPLINGS BASICALLY HAVE TWO PARTS MAINLY – A SOCKET AND A PLUG.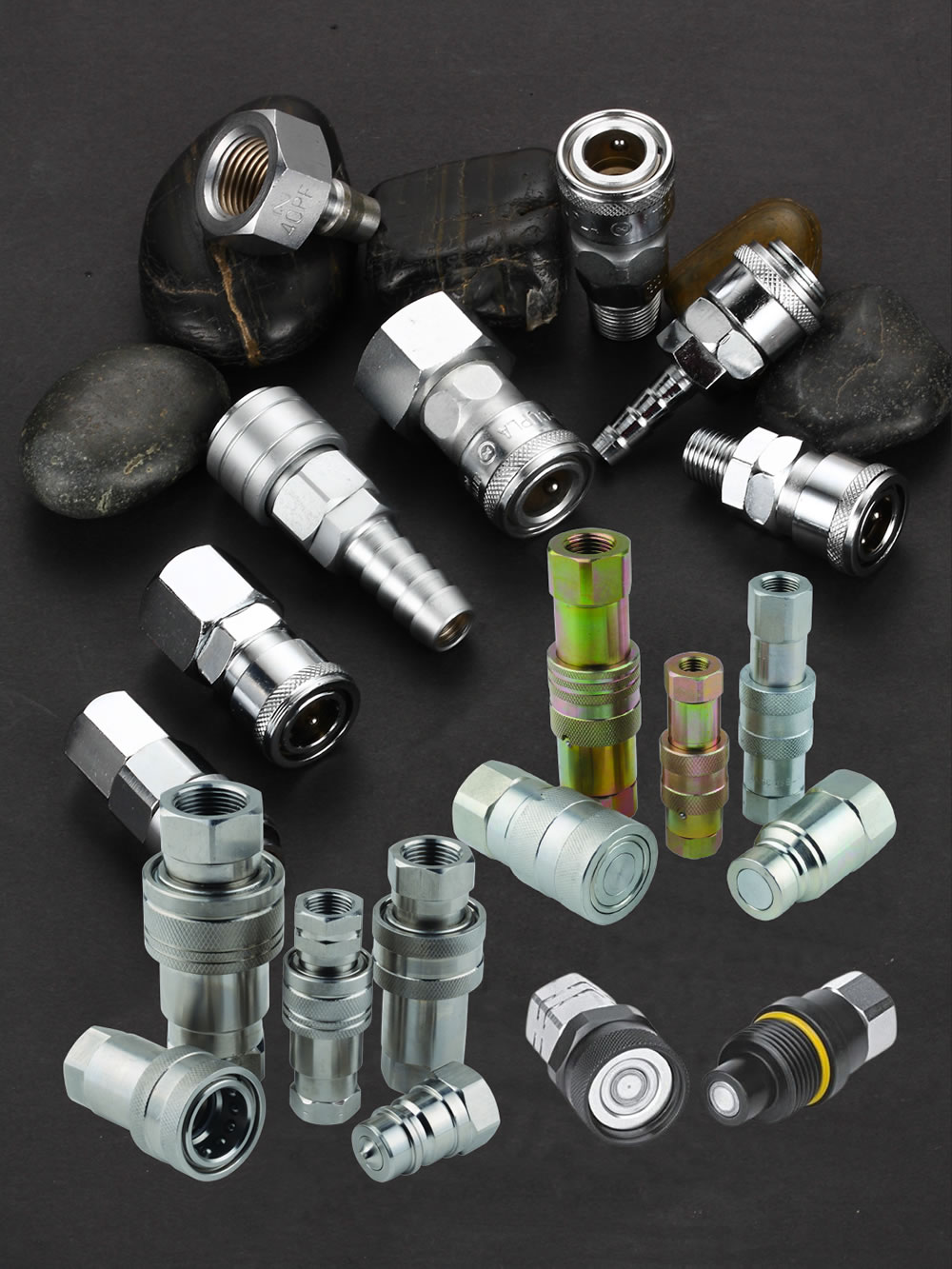 JAPAN Type Quick Couplers
Two Touch Quick Couplers
One Touch Quick Couplers
Hydraulic Quick Couplers
ISO 7241 A Hydraulic Quick Couplings
ISO 7241 B Hydraulic Quick Couplings
ISO 16028 Flat Face Hydraulic Couplings
Stainless Steel Quick Coupler
Carbon Steel Quick Coupler
Brass Quick Coupler
The couplings basically have two parts mainly –  a socket and a plug.

Coupler Socket Construction: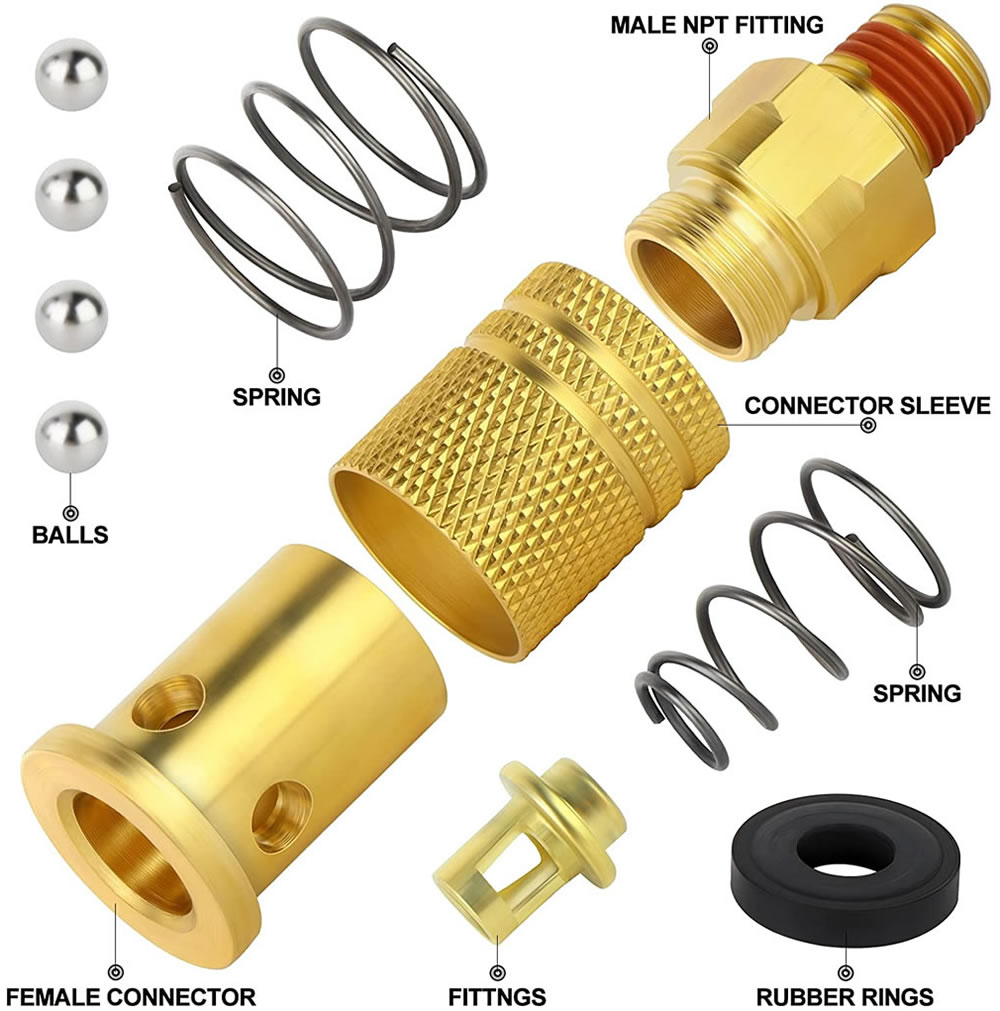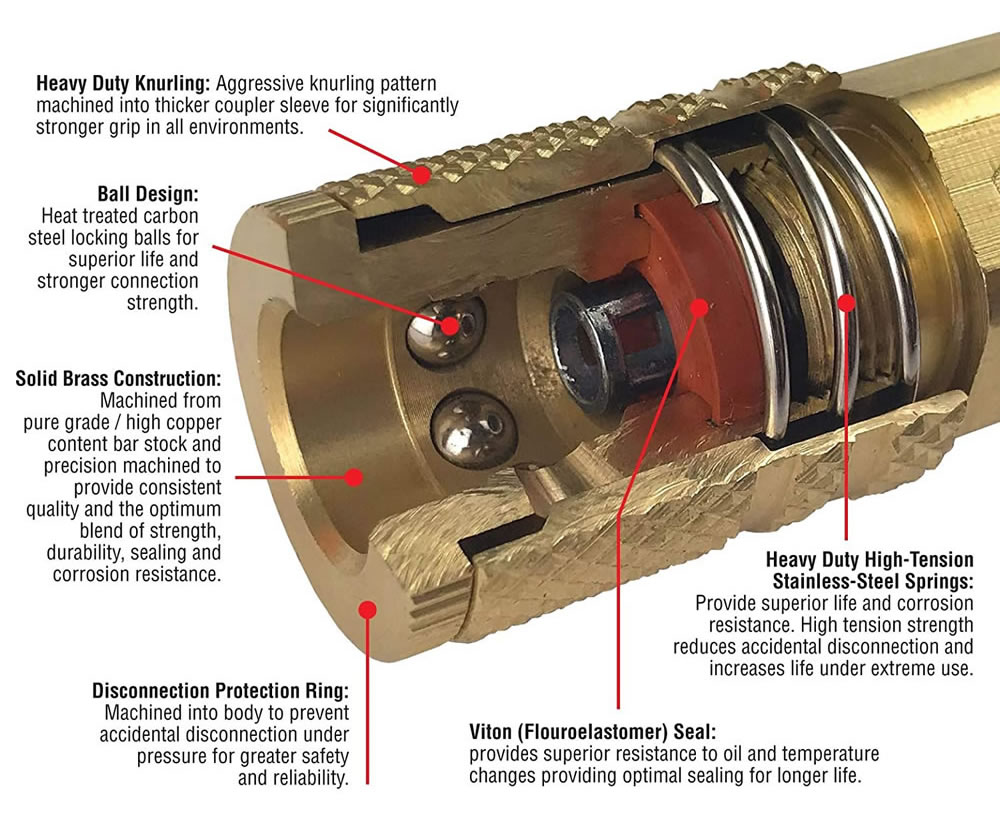 These locking seal quick-connect couplings are created by several designs, including:
Ball or bearing type, in which spring-loaded balls lodge in cavities to make the connection. This is the most common type, because they can be disconnected with just one hand.
Flat face coupling designs eliminate the problems of trapped pressure in a line, as well as leakage of hydraulic fluid or air by eliminating the cavity where the fluid or air rests. They can be push-to-connect or threaded, screw-in types. Flat face couplings provide high flow and low pressure drop and their sleeve-locking feature reduces the change of accidental connection.
Non-latching designs are best used when there may be frequent change-outs of the coupling, such as pneumatic ones used in test or medical applications. They usually come with a self-sealing valve that will hold the fluid in the line to prevent any leakage.
Bayonet couplings are simple to connect. The user plugs the two ends together and once engaged, gives the devices a quarter-turn to push the male end into the female socket. Twisting them a quarter turn the other direction allows them to be easily disengaged and separated. Although used in high-pressure hydraulics, they are more common in pneumatic applications.
How to Identify Coupler Plug Designs
The Standard Sleeve Type Couplers and Plugs are manufacture to insure interchangeability with other manufactures coupler and plugs.the following standard interchanges are avaiable:industrial interchange(Hansen) series,Automotive(Tru-Flate) series,Lincoln series,and the Straight Through(No Valve) series.
A/T Type - T  AUTOMOTIVE COUPLERS
This type of plug has the shortest tip compared to the other three types of plugs.It has the widest section between the ball groove and the tip.
This design has a thick sealing surface around the tip,which provides better sealing and longer seal life.
Very short tip / Thick sealing surface / Wide section
I/M Type - I/M  INDUSTRIAL COUPLINGS
This type of plug has been adopted by all major manufacturers.The couplings that will mate with this plug are either"sleeve"type or "push"type couplings.To identify this plug,look for the 3/16"tip and a V shape,flat bottom ball groove.Complies to ANSI T 3.20.14 dimensions.
3/16"tip / V shape,flat bottom / ball groove
ARO - ARO Type QUICK COUPLER
To identify this plug,start from the tip.It has a 5/16"tip and around ball groove similar to the A/T type
5/16"tip / Roundball groove
LincoIn Type - L STYLE QUICK COUPLER
This is the most easily identified plug due to its long tip.The tip length is 3/4"and can only be used with a matching coupling design.
3/4"tip / Round bottom ball groove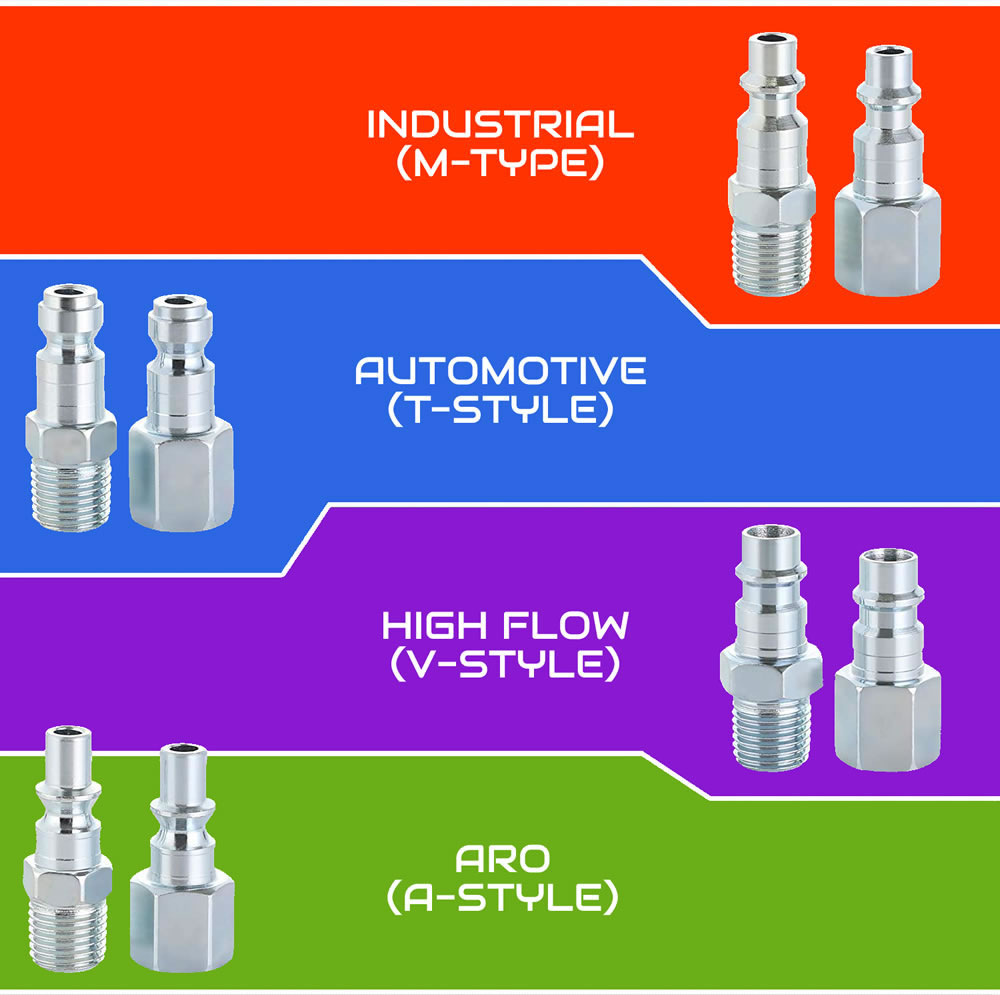 Quick Couplers & Plugs Introduction

Quick disconnect couplers are the fastest,easiest,and most reliable means of joining pneumatic and fluid transfer lines.
All quick disconnect couplers work on the same principle:
Hardened balls or pins engage a groove in the coupler plug to hold it securely against a soft sealwhie permitting to swivel,thereby preventing kinking or twisting of hose.
A sliding sleeve releases the locking balls when retracted,permitting the plug to be inserted or removed.The sleeve automatically returns to the locked position when released.
An automatic shutoff valve in the coupler seals instantly upon uncouplig,eliminating the need for a separate shutoff.
Air Quick Coupler Features/Benefits
Long Service Life. Zinc plating provides an on-corrosive finish.Heat treating hardens critical wear points.Molded Buna-n seals create a leak proof connection.
Efficient Performance. Tubular valve design provides high flow rates.Steel locking balls ensure connection holds tight under the most rugged applications.Spring loaded sliding outer sleeve allows quick connec/disconnect
Many Sizes&Styles. Available in 1/4,3/8,1/2,3/4 inch bodies with male and female pipe threads,hose barb or lock-on ends for every application.
Interchangeability. Fully interchangeable with couplers and plugs made by other manufacturers.(See interchange chart) .
Pneumatic Quick Disconnect Fittings
Pneumatic quick disconnect fittings are a widely-used component within industrial, construction, and automotive environments. They offer users the ability to connect and disconnect air compressors, compressed air lines, and tools.
Additionally, Longwei's pneumatic quick disconnect fittings are available in several connection styles or interchanges. Interchanges are a universally accepted configuration of the shape and size of the fittings plug. In other words, the interchange is the shape and size of the pneumatic plug.
Longwei's pneumatic fittings include the following interchanges: industrial, ARO, Lincoln, Automotive, and European/High Flow.
View our quick coupling selection here!
Hydraulic Hose Quick Release Coupling ISO7241-B
Longwei Auto Parts
2022-12-08T14:43:00+08:00
Nitto Type Quick Disconnect Coupling 400SF/PF/SM/PM/SH/PH
Longwei Auto Parts
2022-02-18T16:59:28+08:00
Nitto Type Quick Release Coupler 20SF/SM/SH/SP-Small Body
Longwei Auto Parts
2022-02-18T16:59:54+08:00
HOW ARE AIR HOSE FITTINGS MEASURED?

Many of the hoses in our range will come already fitted with some type of end fitting so you can start connecting up to your air compressor and tools, any addition couplers you need will be the same size.
If you're still unsure what size you need, it's simple, the circumference of your hose is the size coupler that you will need. You can use this quick trick to work out the circumference of your hose;
Take your hose and a length of string
Wrap the string around the hose
Keep the string running around the diameter straight and true
Mark the string across both ends
Layout the sting next to a tape measure
Read the length of the string from mark to mark
This will give you the circumference of the hose
Take this length and divide by PI (3.1416)
This will give you the diameter of the hose
There are many different types of air fittings but most air tools use one of just a few types of connector. The main things to consider are the fitting type and the thread size. Common fixing types include ¼" BSP, ¼" PCL and 3/8" NPT.
Pneumatic Quick Release Couplings Application
Pneumatic quick couplers (also referred to as air couplers, or pneumatic quick disconnects), are primarily used for pneumatic applications, connecting air tools, hoses, or other implements to compressed air supplies. They are also used with other gases.
The coupler half contains a shut-off valve that is automatically opened when a mating nipple is inserted and automatically closes when the nipple is removed.
Longwei Pneumatic couplings come in three basic designs: general purpose/manual connect, general purpose/push-to-connect, and special purpose.