Europe Universal Interchange Quick Release Couplings LWE1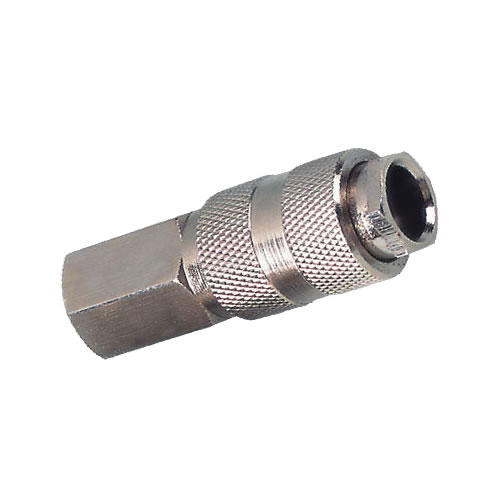 Female Thread
Quick Coupler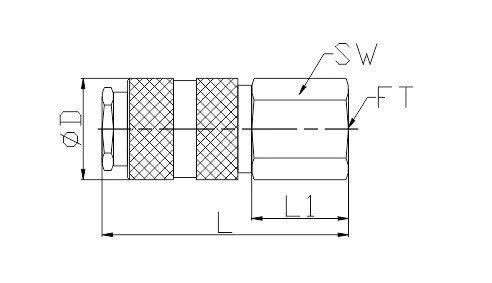 | | | | | | |
| --- | --- | --- | --- | --- | --- |
| P/N | L | ΦD | L1 | SW | FT |
| LWE1-2SF | 53 | Φ22 | 21 | 19 | 1/4" BSP |
| LWE1-3SF | 54 | Φ22 | 22 | 20 | 3/8" BSP |
| LWE1-4SF | 56.5 | Φ22 | 24.5 | 25 | 1/2" BSP |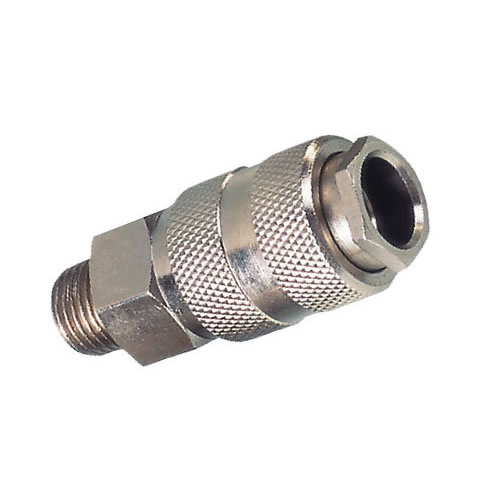 Male Thread
Quick Coupler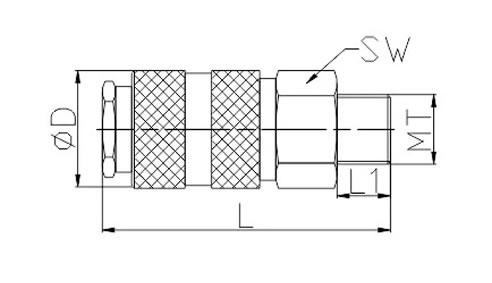 | | | | | | |
| --- | --- | --- | --- | --- | --- |
| P/N | L | ΦD | L1 | SW | MT |
| LWE1-2SM | 53.5 | Φ22 | 10.5 | 19 | 1/4" BSP |
| LWE1-3SM | 54 | Φ22 | 11 | 19 | 3/8" BSP |
| LWE1-4SM | 57.5 | Φ22 | 13.5 | 21 | 1/2" BSP |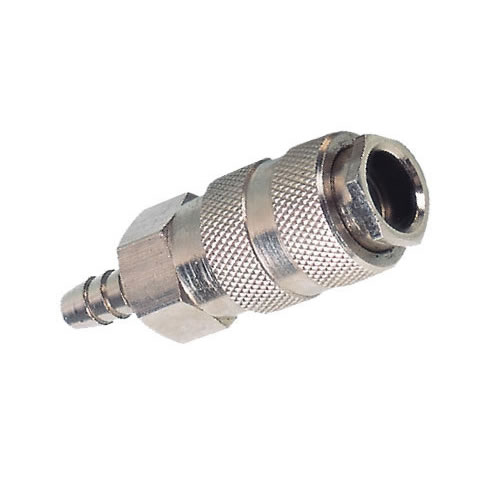 Push On Hose Barb
Quick Coupler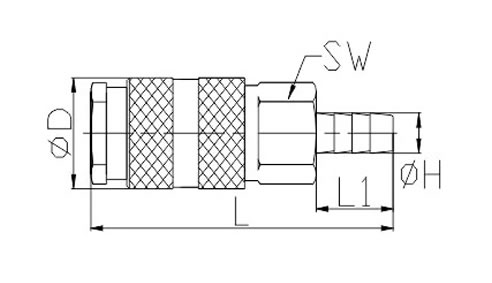 | | | | | | |
| --- | --- | --- | --- | --- | --- |
| P/N | L | ΦD | L1 | SW | ΦH |
| LWE1-2SH | 59 | Φ20 | 16 | 19 | Φ6.35 |
| LWE1-3SH | 61 | Φ20 | 18 | 19 | Φ8 |
| LWE1-4SH | 63 | Φ20 | 20 | 19 | Φ10 |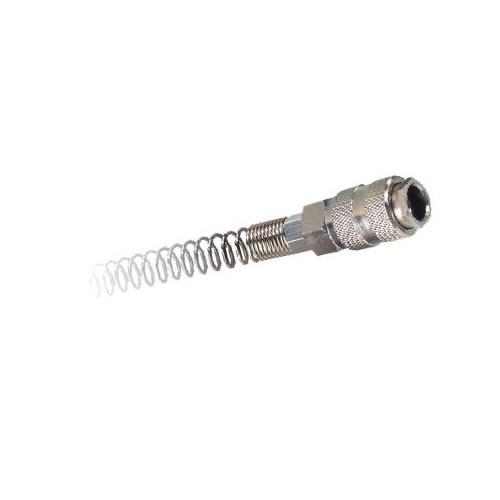 With Spring
Quick Coupler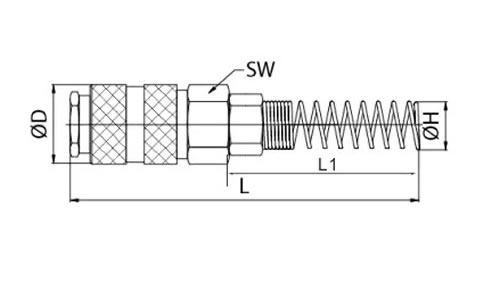 | | | | | | |
| --- | --- | --- | --- | --- | --- |
| P/N | L | ΦD | L1 | SW | SIZE |
| LWE1-1SP | 133 | Φ22 | 90 | 19 | Φ4×6 |
| LWE1-2SP | 143 | Φ22 | 100 | 19 | Φ5×8 |
| LWE1-3SP | 148 | Φ22 | 105 | 19 | Φ6.5×10 |
| LWE1-4SP | 153 | Φ22 | 110 | 19 | Φ8×12 |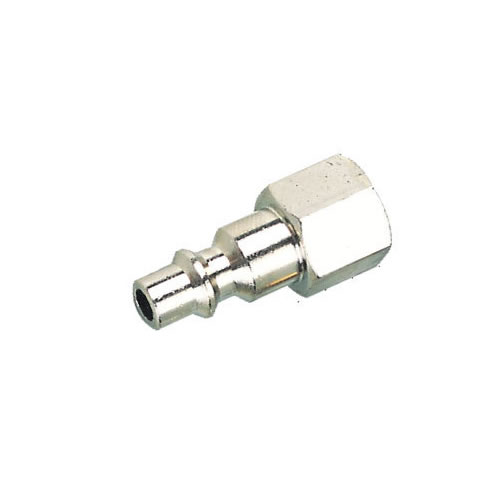 Female Thread
Quick Coupler Plug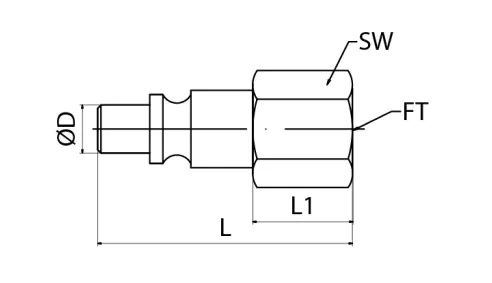 | | | | | | |
| --- | --- | --- | --- | --- | --- |
| P/N | L | ΦD | L1 | SW | FT |
| LWE1-2PF | 36.5 | Φ7.9 | 13.5 | 16 | 1/4" BSP |
| LWE1-3PF | 38 | Φ7.9 | 15 | 20 | 3/8" BSP |
| LWE1-4PF | 41 | Φ7.9 | 18 | 25 | 1/2" BSP |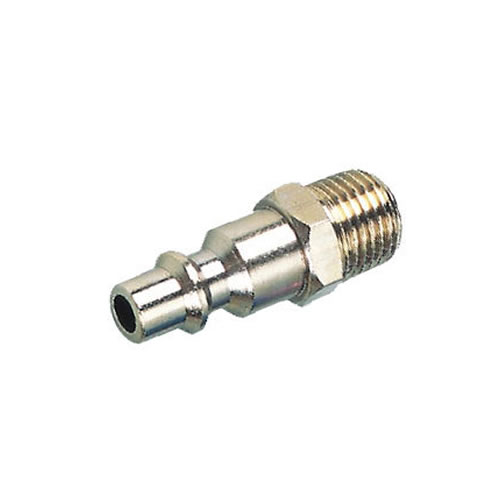 Male Thread
Quick Coupler Plug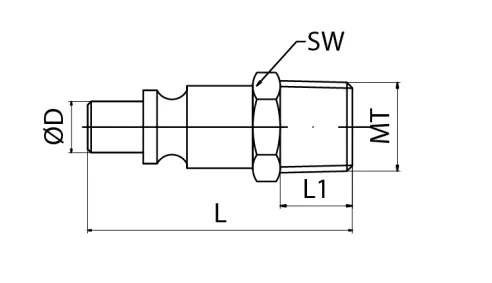 | | | | | | |
| --- | --- | --- | --- | --- | --- |
| P/N | L | ΦD | L1 | SW | FT |
| LWE1-2PM | 38.5 | Φ7.9 | 10.5 | 14 | 1/4" BSP |
| LWE1-3PM | 40 | Φ7.9 | 11 | 17 | 3/8" BSP |
| LWE1-4PM | 43.5 | Φ7.9 | 13.5 | 21 | 1/2" BSP |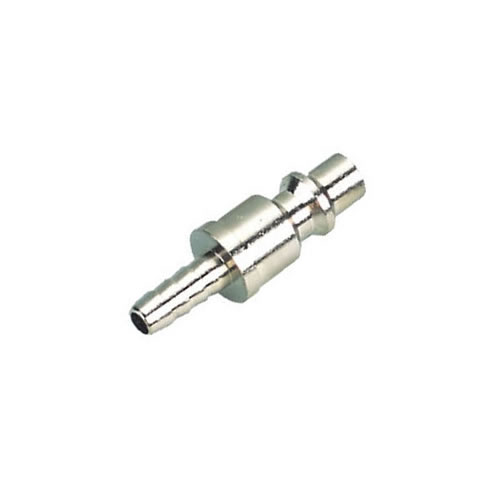 Hose Barb
Quick Coupler Plug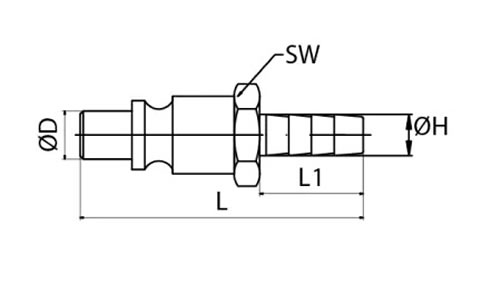 | | | | | | |
| --- | --- | --- | --- | --- | --- |
| P/N | L | ΦD | L1 | SW | ΦH |
| LWE1-2PH | 48 | Φ7.9 | 20 | Φ14 | Φ6.35 |
| LWE1-3PH | 48 | Φ7.9 | 20 | Φ14 | Φ8 |
| LWE1-4PH | 48 | Φ7.9 | 20 | Φ14 | Φ10 |
With Spring
Quick Coupler Plug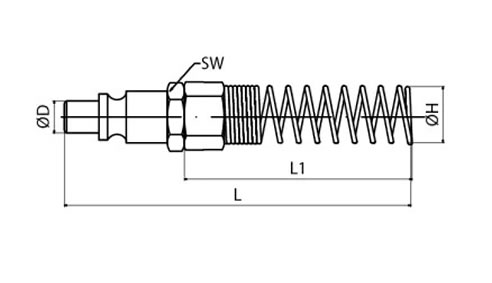 | | | | | | |
| --- | --- | --- | --- | --- | --- |
| P/N | L | ΦD | L1 | SW | SIZE |
| LWE1-1PP | 115.5 | Φ9.9 | 90 | 14 | Φ4×6 |
| LWE1-2PP | 125.5 | Φ9.9 | 100 | 14 | Φ5×8 |
| LWE1-3PP | 131.5 | Φ9.9 | 105 | 16 | Φ6.5×10 |
| LWE1-4PP | 136.5 | Φ9.9 | 110 | 17 | Φ8×12 |
What is a universal air coupler?
Universal interchange quick-connect air coupling bodies are the female end of coupling sets. Also called sockets, they accept coupling plugs (nipple or male ends) to connect tools to air lines.
Coupling LWE1 work with other interchanges accepting multiple styles of nipples, including industrial, Italian and german Type quick plugs.
The push-to-connect style has a protective sleeve that slides forward until the plug ejects. The socket's shut-off valve eliminates air leaks in automotive service and repair, factory automation, and construction.
With Various CUSTOMIZATION Packaging

For Branded Retail And Specialty Packaging That Conveys The Quality Of The Products For Your Business, Retail Packaging Customization Is Acceptable In Longwei.