Pencil Tire Gauge LG01

Pencil Tire Pressure Gauge (10-50PSI) Metal Body and Plastic Made Nozzle 2 Side Measurements for Vehicles
PRESSURE RANGE: 10-50 PSI

Do not use this product for applications outside of its intended use

2-sided ABS Indicator Bar

Attention! Do not exceed the maximum pressure of the gauge, doing so will permanently damage the device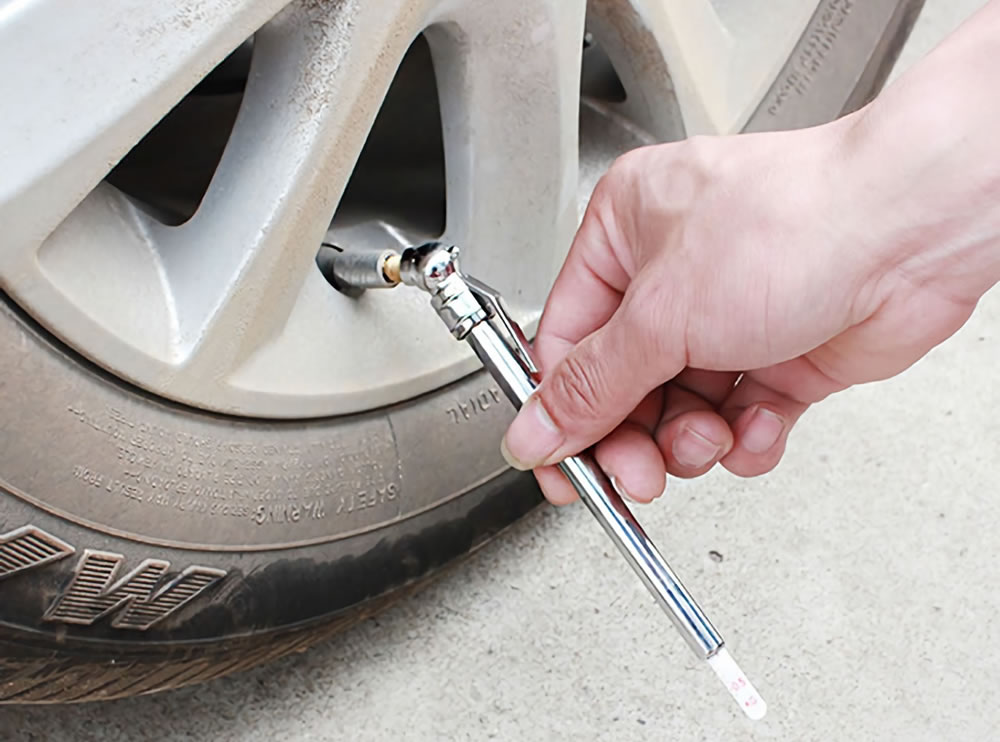 All-Purpose Air Pressure Gauge for Tires – Easy to use with cars, trucks, SUVs, RVs, all-terrain vehicles, motorcycles and kid's bicycles these portable tire gauges make it easy to get a quick, accurate reading to ensure proper inflation.
Improve Tire Safety and Longevity – A quality car tire gauge can make all the difference when you're trying to maintain factory tire inflation requirements to help improve gas mileage, control of the vehicle, and overall road safety.
Compact and Portable Pencil Style – Slim enough to fit in your vehicle's glovebox, a tool bag or even your front shirt pocket thanks to the convenient pocket clip our analog tire pressure gauges can go almost anywhere you go.
Craftsmanship – Designed with a metal body and plastic head each car and bike tire pressure gauge offers long-lasting durability and convenience, so you always know you're getting reliable results.
Crafted to create a great seal around a tire's valve stem

MEASURES PSI; Measurement range from 10-50 PSI.
Attention!Do not exceed the maximum pressure of the gauge, doing so will permanently damage the device

UNIVERSAL APPLICATION: Not only are these gauges easy to use, but include an integrated deflator valve, chuck, and ABS indicator bar

CONVENIENT DESIGN stows easily in a glove box, tool belt, workbench, or even a pocket; the pocket clip makes it easy to carry with you while on the job

BATTERY FREE means no maintenance and total reliability under all weather conditions; a necessary tool for roadtrips and optimal safety
Pencil Tire Pressure Gauges Application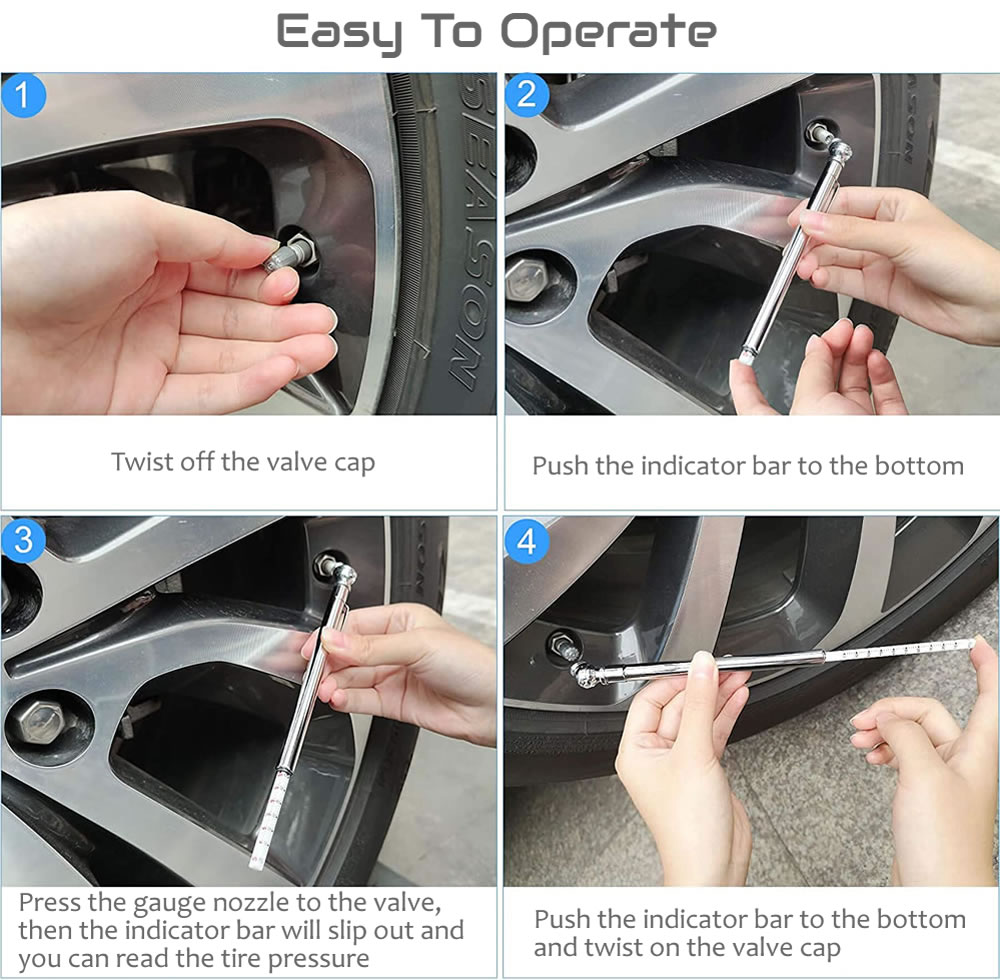 Keeping your car tires properly inflated is an easy maintenance chore that's vital to your safety. Under-inflated tires build up excess heat as you drive, which can result in tire failure. With too little air pressure, tires can also wear faster and unevenly, waste fuel, and negatively impact the vehicle's braking and handling.
To help maintain tires in top condition, use a tire-pressure gauge to check the pressure of your tires at least once a month and before starting on any long trip. For an accurate read, make sure the car has been parked for three or more hours before checking the tire pressure.
Part No
LG01-A
LG01-B
LG01-C
Head
Plastic
Body
Metal
Bar
2 side plastic
2 side steel
PSI
10-50psi
Tire Presssure Guage
Tire pressure must be checked regularly.
maintaining proper tire inflation will increase fuel economy,increase tire life,and reduce the chance of tire failure.
Driving is a luxury that many people across the country enjoy, but if proper care isn't taken to maintain a vehicle, it can result in rapid wear, part failure, and poor control. Tires are one of the features of a car that can sometimes be overlooked, but it's important to ensure that you know how to use a gauge to check tire pressure.
Underinflated tires increase braking distance, reduce steering control, and accelerate tire wear, which can result in complete tire failure. Overinflated tires are not as hazardous, but they can still increase tire wear, affect the wear pattern of the treads, and reduce control.
To ensure that your tires are not under- or overinflated, it's necessary to understand how to use a tire pressure gauge.
With Various CUSTOMIZATION Packaging

For Branded Retail And Specialty Packaging That Conveys The Quality Of The Products For Your Business, Retail Packaging Customization Is Acceptable In Longwei.