Dual Head Air Chucks -Hose Barb

Dual head air chuck allows easy access to inner dual when valve is facing inward. Sealing type chuck is closed and is for use on an airline.
Dual Head Air Chuck Hose Barb Connection

Easier access to tires with the dual head chuck

Closed/Sealing-type air chuck for use on a compressed airline

Great for reaching into dually trucks and other challenging angles
Air Chuck Set Dual Head Hose Barb Connection
Ensure tires are properly inflated for increased fuel economy, safer roadside handling, and longer tire life with tire chucks and inflators from Longwei.
According to the U.S. National Highway Traffic Safety administration 33% of light trucks and 25% of cars have at least one under inflated tire. These tire chuck and inflators make it easy to get to hard-to-reach valves on a range of tires.

Benefits of Air Chucks
Inflate tires Dual head air chucks hose barb connection. An air chuck's sole purpose is to inflate tires. They fit over the valve stem and go to work. While that is a simple job, it's essential because a tire without air is nothing more than a hunk of rubber.
Adjust air pressure. Basic maintenance and performance driving of any kind requires you to monitor and adjust air pressure in your tires. Air chucks are essential to the process. If you need to make these adjustments while away from the shop, you should consider our guides to portable air compressors, small air compressors, portable tire inflators, and RV air compressors.
Tackle miscellaneous tasks. Some air chucks come as part of a kit that allows you to do more than inflate tires. You can use them for filling up tires, sports equipment, and even cleaning up around the shop. If you're just starting to build a collection, you certainly should consider these kits.
Air Chucks Application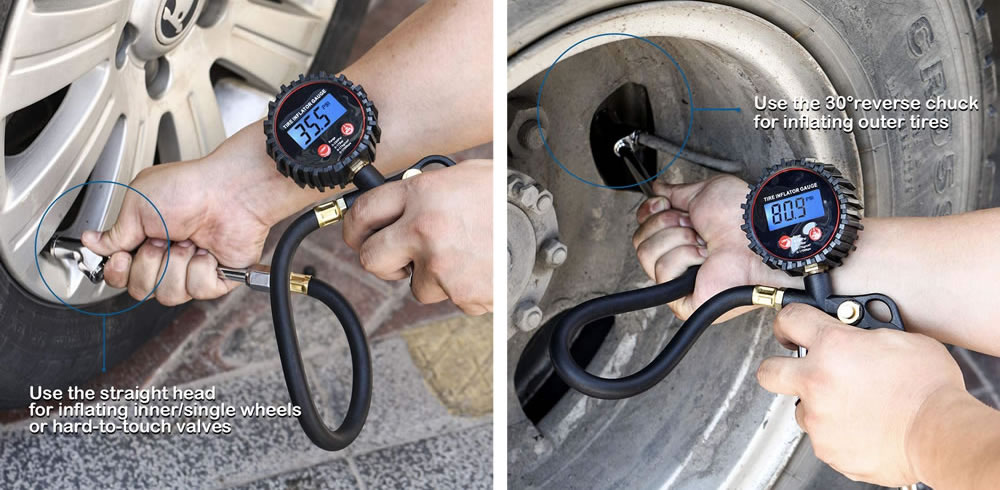 Part No
Description
Connection
AET-06
Dual-Foot chuck
1/4" or 5/16 Hose Barb
AET-09
8.7mm Hose Barb
AET-10
1/4" or 5/16" Hose Barb
What are air chucks?
Simply put - air chucks are valve fittings that secure to your tire valve stem for tire pressure inflation & maintenance. They allow air to flow to and from the tire to help monitor and maintain correct inflation. Air chucks are typically sold as attachments for tire pressure gauges, inflators, or air compressor hoses.
With Various CUSTOMIZATION Packaging

For Branded Retail And Specialty Packaging That Conveys The Quality Of The Products For Your Business, Retail Packaging Customization Is Acceptable In Longwei.